An Array of Window Cleaning Services for Essex Property
Our team are incredibly proud to be able to offer a range of services that are not simply limited to windows. Because the tools and equipment we use are so efficient, we clean window frames, can reach guttering to unblock and clean, and we also provide a fascia and cladding cleaning service. We realise that maintaining a pleasant appearance is essential – both at your private home or at commercial or retail premises.
We will attend:
Commercial properties
Housing association premises
Public sector buildings
NHS sites
Schools and educational facilities
Supermarkets and retail outlets
Private property
You are welcome to find out more about each one of the properties we serve and how we work to reach awkward windows and cladding and what we use to clean the required areas please read further about our services.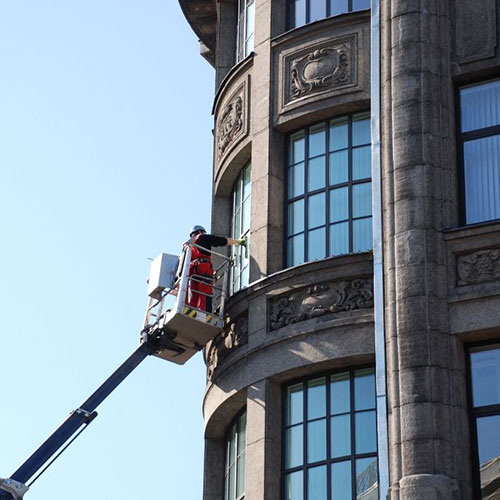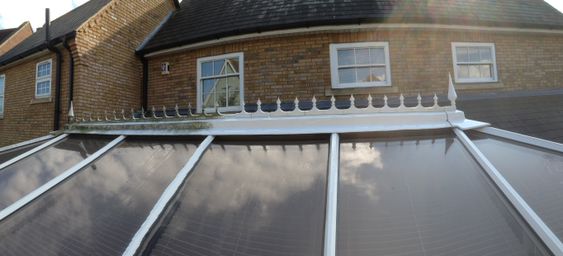 Commercial
We at 1 Pure and Simple have specialist technicians who work with high rise windows up to 4 storeys. Our business and expert team always follow strict health and safety guidelines as well as work a height regulations when needed. We use different methods to access working areas but regularly use our high pressure water fed pole equipment which reaches high without the need to hire expensive lifting equipment such as cherry pickers. We regularly remove the need for the use of ladders too. Find out more in our comprehensive Commercial Cleaning Section.
Gutter Pipe Cleaning
We can clean your gutter from the safety of the ground, even if you already have a window cleaner we can still clean your gutter pipes for you. Traditional window cleaners may not be happy to do this job for you but this kind of work makes up a regular part of what we do and we carry out the task in a professional and safe manner; hire us and your gutters will be cleaned and unblocked, ensuring no further damage is caused by blocked leaves and other litter.
Window Cleaning for Commercial Properties, Chelmsford and Beyond
Wherever possible 1 Pure and Simple Ltd use the leading high reach system which eliminates the need to make use of more traditional methods of climbing ladders.
This means that no ladders are used when we implement the high reach system. It is an environmentally friendly method that makes use of just 100% pure water. Our equipment will aggressively remove dirt and allows our technicians to do this without the need for harsh or dangerous chemicals or detergents.
If you have a commercial building above 3 storeys high and your current window cleaner is using other methods i.e. ladders or hydraulic equipment, you may wish to reconsider your options. Compared to those methods, the high reach system using 100% water fed poles has five main advantages:
Health and Safety: The high reach pole system reduces the risk of accidents to the window cleaner, your staff or clients
Damage: It substantially offers less chance of damage to facades, guttering, frames, the building itself, plants, lawns and cars parked near to the property than if using ladders
Cost: Using the high reach system has been proven to be much more cost effective. No having to hire expensive lifting equipment, just simply hire the team who arrive with all equipment needed.
Time Saving: It also cuts down on the time on the job – this is because using high reach equipment is a lot quicker (no climbing up and down ladders or having to set up hire equipment such as ropes and cherry pickers)
Quality: We can achieve a much better finish which is streak-free – even in bright sunlight. This means no marks – that are often left by using basic equipment and tools such as squeegees or thick detergents.
Frames and Sills: Unlike with traditional methods, using the high reach system in addition to cleaning the glass your window frames and sills (as well as gutters) are also cleaned at no extra cost to you
Confidence in Commercial Window Cleaning
We are so confident in our window cleaning service that we guarantee it.
Companies that we work with tell us the following:
Reliability: We will be on site at the time arranged. If, due to traffic or unforeseen circumstances we are not on time, we will contact you as soon as we can to explain why we are late or unable to attend on that occasion. If required we will rearrange a new date and time convenient to you. Guaranteed.
Quality: 1 Pure and Simple window cleaners guarantee an excellent job, every time. Every job attracts our attention to detail and our team pride themselves on being thorough; if you are not happy with any part of our work, we guarantee to put it right within 48 hours of receiving notification of any problems.
Customer Care: We take our client's care seriously. If we are working internally for instance, our team will always be professional and polite. Our technicians make sure that they leave your premises as it was when they arrived. We knock before entering (or speak to reception to sign in) and will cause as little disturbance as possible.
Price: Our prices are set for 2 years so, when you hire us to clean your windows, you don't have to worry about rising costs for a generous period of time.
Staff Training: All our window cleaners, or technicians as we prefer to call our team, are trained to the relevant standards and take health and safety very seriously.