Wherever possible 1 Pure and Simple Ltd use the high reach system.
No ladders are used with this system and it is environmentally friendly using 100% pure water that aggressively removes dirt without the need for chemicals or detergents.
If you have a building above 3 storeys high and your current window cleaner is using other methods i.e. ladders or hydraulic equipment, then the high reach system using 100% water fed poles has five advantages:
Health and Safety: Reduces the risk of accidents to the window cleaner, your staff or clients.
Damage: Substantially less chance of damage than if using ladders (e.g. cars, sills, slates, tiles and gutters, plants, lawns).
Cost: Much more cost effective, no having to hire expensive lifting equipment, also cuts down on the time on the job as using high reach equipment is a lot quicker (no up and down ladders).
Quality: A much better finish, streak-free, even in bright sunlight, no marks sometimes left by squeegees).
Frames and sills: Unlike with traditional methods, using the high reach system in additions to cleaning the glass frames and sills (and gutters) are also cleaned at no extra cost to you.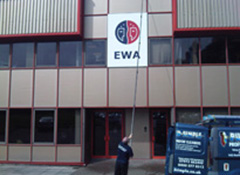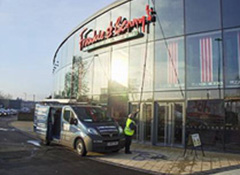 We are so confident in our window cleaning service that we guarantee it. Companies that we work with tell us the following:
Reliability: We will be on site at the time arranged, if due to traffic or unforeseen circumstances we are not on time, we will contact you to explain why and, if necessary, rearrange a new date and time. Guaranteed.
Quality: 1 Pure and Simple window cleaners guarantee an excellent job, we are thorough, if you are not happy with any part of our work, we guarantee to put it right within 48 hours of your call.
Customer care: We take our client's care seriously. If working internally for instance, we will be polite, make sure we leave your premises as we found it; knock before we enter.
Price: Our prices are set for 2 years, so when choosing us to clean your windows, you don't have to worry about rising costs.
Staff training: All our window cleaners are trained to the relevant standards.
Health and Safety Compliance & Insurance
Safe Window CleanersWe stick strictly to our health and safety policy, to protect you and your staff and in the unlikely event of an accident caused by us, you are covered by our insurance.
Builders Cleans
We promise to match any like for like window cleaning offer.
Offers need to be in writing and sent to our e-mail address. We are available 24/7 ready to deal with any queries or requirements that you might have.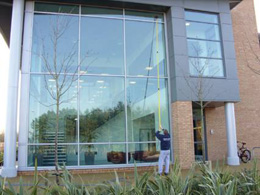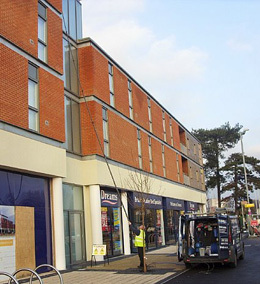 1 Pure and Simple Ltd wholeheartedly comply with legal obligations and with us safety come first at all times.
We can carry out a risk assessment to pinpoint potential pitfalls before your window cleaning starts. Health and Safety is a big issue. The H.S.A. say every year an average of two window cleaners die and many more are seriously injured as a result of falls from ladders.
We at 1 Pure and Simple Ltd are proud to say we have had no serious injuries since the company was formed.
In keeping with the Height Regulations 2005 we at 1 Pure and Simple Ltd try to avoid the use of ladders if possible.
Did you know that it is the owner of the premises who is responsible for ensuring that work undertaken on their premises Complies with Health and Safety Legislation? If the contractor you current use is using ladders, then it is your responsibility to make sure ladder ties are fixed to buildings about two storeys (with installation carried out by registered contractors).
Public Sector Window Cleaners
Public Sector Window Cleaners. If you are responsible for selecting a window cleaning company for a police station, council office, court house, nursing home, school or any other public sector site, you need a company that you can rely on. We at 1 Pure and Simple Ltd are that company. We can give you confidence because of our professionalism and reliability.
And because it is taxpayers money that you are dealing with you need a window cleaner that provides value for money, while not compromising on quality.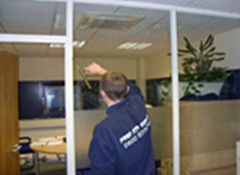 Housing Association Window Cleaners
If you are responsible for selecting a window cleaner for a housing association, chose 1 Pure and Simple Ltd for your needs.
I am sure you don't need tenants ringing you complaining about the state of their windows or damage caused by the window cleaners. In fact no news is good news.
We are a professional window cleaning company with identifiable staff uniforms. We are friendly and professional. Just what you need us to be when dealing with your residents, especially senior citizens.
You need to have a company on which you can rely so when we arrange a date and time you can advise your residents in good time so they can close their windows so all the windows get cleaned all the time. And to set a date that's easy to remember, such as every 3rd Tuesday. When you chose us, you not only get professionalism but you get peace of mind. We clean your windows every time like its the first time – guaranteed.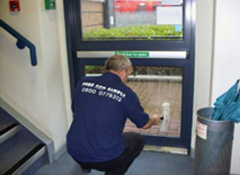 NHS Site Window Cleaners
NHS Window Cleaners.If you are responsible for selecting a window cleaner in and around London and Essex, for NHS sites, or private hospitals, you need a company like 1 Pure and Simple. We are a professional window cleaning company.
We understand your needs and we can work flexible hours to suit you. Even nights if required.
We plan our window cleaning work carefully, so as to protect patient privacy and not to disturb critically ill patients.
School Window Cleaners
Whether you are a comprehensive or private school, 1 Pure and Simple Ltd are a professional window cleaning company and we manage an expert team on which you can rely on.
Our team will be assigned to clean during term time or during the holidays. You will find we are very flexible and we can get to awkward access areas using our high reach pole system.
Supermarket Window Cleaners
We are 1 Pure and Simple Ltd. We are proud of our business, our team and the specialist equipment that we use and will cater for all your window cleaning needs.
Whether we are hired to work for an independent supermarket or a chain of supermarkets we are ultimately flexible – carrying out window cleaning or our other services out of hours where needed. Our team aim to cause no inconvenience to your shoppers.
We also know that the appearance of your windows says a lot about your store and that it is the first thing your shoppers see before they enter the store, that's why we take care that every time we clean your windows. Our technicians ensure that the windows are cleaned to a professional standard – every time.