Private Properties
Our residential services also come under our Private Property services. We know that when you are looking for window cleaners you need a timely service, you would like us to arrive on time as agreed, and to leave you with a domestic property whose windows truly shine.
You will see clearly when you choose to hire the team at 1 Pure and Simple.
Wherever possible 1 Pure and Simple use the high reach system.
No ladders are used with this system at the majority of jobs and this specialist system is environmentally friendly. We use only 100% pure water that uses high pressure to remove ground on grime and dirt without the need for chemicals or harsh detergents.
The high reach system has 5 advantages over a more traditional window cleaner that may use chemicals, rags, squeegees and ladders:
Health and Safety: Reduces the risk of accidents to the window cleaner and your property.
Damage: Substantially less chance of damage than if using ladders (e.g. cars, sills, slates, tiles and gutters, plants, lawns)
Cost: Much more affordable without the expense of hiring lifting equipment; also cuts down on the time taken as using high reach equipment is a lot quicker to set up and use
Quality: A much better streak-free finish even in bright sunlight where dust and streaks are usually highly visible. We leave no marks that squeegees usually do
Frames and Sills: Unlike with traditional methods, using the high reach system cleans not only the glass but the frames, sills (and gutters where requested); this costs you no extra than the price agreed when you choose to hire us for window cleaning services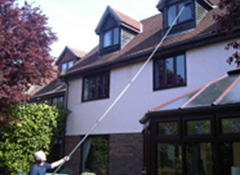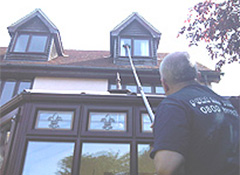 Other things that make us stand out from the rest:
Reliability: We will be there as the time arranged. If due to unforeseen circumstances we cannot make the agreed time we will call ahead and if necessary arrange a new date and time, at your convenience, guaranteed.
Quality: 1 PURE AND SIMPLE guarantees to do an excellent job. If you are not happy with any part of the clean, we guarantee to put it right within 48 hours of your call.
Price: Our prices are set for 2 years so when choosing us to clean your windows, you don't have to worry about rising costs.
Staff Training: All our staff are trained to the highest and relevant standards.
Free Demonstrations: We will come to your home and give you a free demonstration.
Unlike normal window cleaners that use traditional methods, we can offer the following services:
Conservatory Roof Cleaning
Very cost effective compared with specialist conservatory cleaning companies prices. Our team hear all the time about window cleaning companies through Essex who refuse to clean conservatory roofs. Whether this is due to the none-use of ladders or the chance that their equipment may not reach to clean the entire roof depends on the tools they use and their ability to carry out such a job.
Our team are fully trained on health and safety and use high reach water systems to ensure the entire roof is left sparkling and free from moss and grime.
Facias CleaningWe can clean your gutter from the safety of the ground, so even if you already have a window cleaner, we can still clean your gutter pipes for you.
Fascias & Cladding
We can also offer this service. It really does make a difference to the appearance of your home and we offer free quotes for your convenience.
Our team use the leading high reach system which means we don't need to use dangerous ladders (in the majority of projects we take on) or take the time to set them up and waste time going up and down to refresh water and chemicals. Where we can, we'll reach awkward fascias and cladding, won't need to work at height (cutting the risk of accidents) and will leave you with a moss and grime free façade.